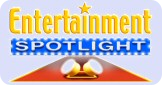 Orla has major talent and screen presence with her personality, look and charisma, and is currently working on new television projects.
Since 2003 Orla Johannes has been Co-Host and Fashion Reporter on 'Entertainment Spotlight' on CTV.
Entertainment Spotlight is a Hollywood Entertainment show with a Montreal spin to it. The CTV program consists of celebrity interviews, a movie review count down, a Fashion and Music segment, and a Restaurant Review.
Orla travels extensively with the crew to co-host,  shooting fashion segments and food stories worldwide. Most recently Orla has filmed at fashion events in Barbados, Greece, Italy, New York, Mexico, London and Paris.
WATCH ORLA FILMING WORLDWIDE WITH CTV